Running a successful pet-care business isn't just about offering excellent service. It involves differentiating your brand from competitors and finding innovative ways to attract new customers. Whether you're operating a dog daycare, kennel, or cattery, inventive promotional strategies can set you apart. Below are five creative promotional ideas to help you get a 'paws'-itive edge over the competition.
1. Pet-of-the-Month Spotlight
Promoting a "Pet of the Month" on your social media platforms or in-store can bring enthusiasm and engagement from your customer base. Ask your customers to submit photos and brief descriptions of their pets, explaining why they deserve to be the pet of the month. You can let your followers vote on the submissions to encourage further interaction.
Benefits:
Increases customer engagement on social media platforms.
Provides social proof of your business's active and caring community.
Implementation Tips:
Give the winning pet a special prize, such as a free grooming session, a unique toy, or a feature in your newsletter.
Consider partnering with local pet photographers for professional shots that can be showcased in your store or on your website.
2. Pet-Care Workshops and Webinars
Hosting workshops and webinars on pet-care topics like grooming, dietary needs, and behavioral training can provide valuable information to pet owners and position your business as a trusted authority.
Benefits:
Builds trust and brand authority.
Offers networking opportunities.
Implementation Tips:
Collaborate with veterinarians, pet behaviorists, and other experts in your workshops.
Record the sessions and share clips on your social media channels.
3. Themed Pet Parties and Events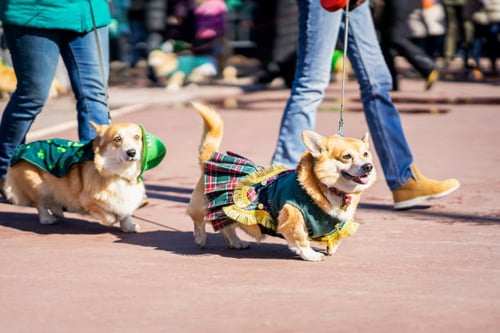 Hosting a seasonal or themed pet party or parade can provide a unique experience for pets and their owners alike. Whether it's a Halloween costume contest or a summer pool party, these events can be a fun way to engage your community and showcase your products or services.
Benefits:
Strengthens the community around your brand.
Provides an opportunity for in-person sales and promotions.
Implementation Tips:
Ensure the event is pet-friendly and safe for all animals involved.
Use these events to collect user-generated content (photos, videos, testimonials) for future marketing.
4. Loyalty Programs and Referral Bonuses
A well-structured loyalty program can encourage repeat business. Offering a referral bonus to existing customers who bring in new clients can also be incredibly effective.
Benefits:
Enhances customer retention.
Increases customer lifetime value.
Implementation Tips:
Use a digital loyalty card to make it easy for customers to track their rewards.
Set up automated emails to thank customers for referrals and inform them of their earned bonuses.
5. Collaborate with Local Businesses
Partnering with other local businesses that cater to pet owners but are not direct competitors can offer win-win promotional opportunities. For example, a pet grooming service might partner with a local pet supply store to offer discounts on each other's products and services, like bandanas.
Benefits:
Increases brand exposure.
Attracts a new audience that's already interested in pet care.
Implementation Tips:
Make sure the businesses you partner with share your values and standards of service.
Collaboratively organize community events or promotions to maximize reach and impact.
The key to effective promotional strategies is to know your audience and provide value that extends beyond basic transactions. By engaging your community, offering valuable insights, and creating memorable experiences, you can make your pet-care business the 'purr'-fect choice for pet owners.
Start a free trial with Revelation Pets now to see how much easier managing your business can be!