Every pet parent knows there's no better feeling than coming home to your beloved furry friend after a long day at work. But what about your dog's day? If you're out for long hours, your pet might spend much of their day alone, leading to boredom, anxiety, and destructive behavior. That's where dog daycare services come in. Offering various benefits such as exercise, socialization, and mental stimulation, these services provide a safe and engaging environment for your pet while you're away. But how do you choose the right daycare for your dog? This post will explore the different types of dog daycare services and what you can expect from each.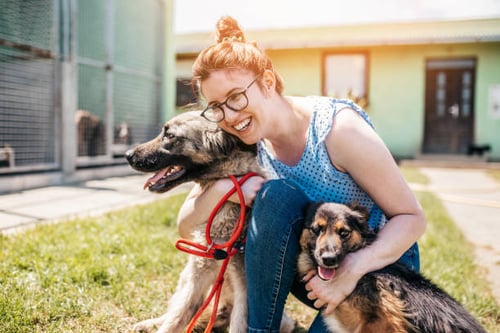 Traditional Dog Daycare Centers
The most common type of dog daycare is the traditional daycare center, which functions similarly to a child's daycare. Here, your dog can run, play, and socialize with other dogs under the watchful eye of trained staff. These facilities often have indoor and outdoor play areas; many offer additional services such as grooming or training. Some even provide webcams so you can check in on your pup throughout the day.
In-home Dog Daycare Services
If your dog is more comfortable in a home setting or gets overwhelmed in large groups, an in-home daycare service might be the best choice. These are run by pet-care professionals who care for a few dogs in their homes. This setup often provides a calmer, more personalized experience for your pet, which can be especially beneficial for dogs with special needs or anxiety.
Dog Boarding Services
Sometimes, you need a longer-term solution for your pet, like when you're on vacation or have an emergency. That's where dog boarding services come into play. These facilities provide both accommodation and daycare services for dogs. They offer supervised playtimes, individualized care, meals, and overnight stays. Some upscale boarding facilities may even offer private suites, gourmet food options, and spa services for the ultimate pet pampering experience.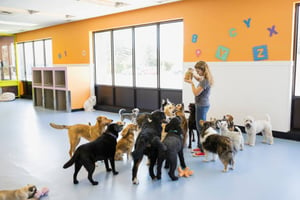 Doggy Daycare and Training Facilities
Combining daycare services with training can be an excellent way to ensure your dog gets mental stimulation and physical exercise. These services typically offer standard daycare activities and schedule daily training sessions. This service can be particularly beneficial for puppies or dogs needing behavioral correction.
Specialized Dog Daycare Services
Some daycare facilities offer services tailored to specific breeds or sizes, or dogs with special needs. These specialized services might include senior dog daycare, puppy daycare, or daycare for small breeds only. This specialized care can ensure your pet is in an environment that meets their needs and promotes well-being.
Before you choose a daycare service, it's important to visit the facility, meet the staff, and ask plenty of questions about their policies and procedures. The best dog daycare services prioritize your pet's safety, health, and happiness above all else.
Remember, every dog is unique, and what works for one may not work for another. Take your time to find the daycare service that suits your pet's temperament, needs, and personality. With the right support, your dog can have as much fun during their day as you do!
Dog daycare services are a wonderful way to ensure your canine companion is well cared for when you're busy. Whether it's a traditional center, in-home service, boarding facility, training center, or specialized service, there's a perfect fit for every pet and pet parent. Your dog's well-being is worth the time and effort to find the right daycare service. After all, a happy dog makes for a happy home!