Bathing a pet can be a stressful experience for some owners, which is why professional groomers play a vital role in ensuring pets are clean, well-cared-for, and expertly groomed. With so many pet parents enlisting the help of dog and cat grooming services, today, the pet grooming market is a multibillion-dollar industry.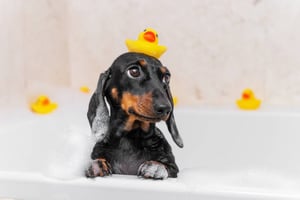 Products in this space range from shampoos and conditioners to brushes and de-shedders to pet toothpaste and fur-enhancing oils. The market gets even bigger when you add cute pet grooming accessories like dog bows and ribbons.
Meeting the increased demand for professional pet grooming services while at the same time meeting your customers' high expectations and competing with other local businesses means stocking your pet-care business with the best dog grooming tools from trusted brands you can depend on.
The best dog grooming tools for pet-care businesses go beyond clippers, shearing scissors, brushes and grooming tables. They also include specialized pet-care software to keep your business running smoothly and efficiently.
To help you build and grow your new pet grooming business, we've put together a list of the best grooming tools that help you stand out from the competition and dazzle your customers!
Revelation Pets Grooming Software
Pride + Groom — Pet Shampoo, Conditioner, & Spray
FURminator — De-Shedding Grooming Rake
Bissel — Dog and Cat Nail Clippers and Grinders
Hartz Groomer — Combo Pet Brush
Andis AGC Professional Clipper Set
Mars Coat King — De-Matting Undercoat Rake
Flying Pig — Grooming Table
Revelation Pets Grooming Software
Managing a dog grooming business requires multitasking, organization skills, and effective communication. In addition, you and your team must manage appointments, hectic grooming schedules, payment information, and track individual client notes (some pet parents have very specific grooming preferences!).
One of the best ways to stay on top of day-to-day operations is by integrating a cloud-based pet grooming software like Revelation Pets. Busy pet grooming businesses rely on leveraging the power of digital tools like this to make their customers' lives easier (who doesn't love the ability to book a grooming appointment online?!) and help save staff time so they can devote more attention to the animals in their care.
In a nutshell, Revelation Pets does the work, so you don't have to. But, as you can see, having the right dog grooming software can make all the difference when running your grooming business.
Pride + Groom Pet Shampoo, Conditioner, & Spray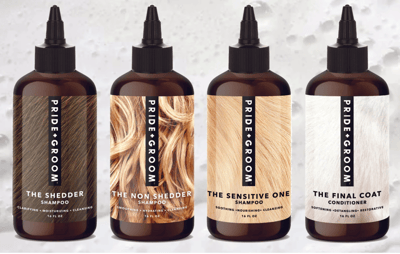 Pride + Groom Pet Shampoo and Conditioner
Building trust with your customers starts by using quality products. One of the most basic products your grooming business relies on is quality shampoos, conditioners, and specialty sprays that give newly washed coats that just-washed shine.
Because your team serves a diverse group of customers, it's a good idea to stock a few types of pet shampoos and conditions to meet the needs of all the dogs in your care. For example, Pride + Groom created a line of products to satisfy a variety of dog coats, including dogs prone to shedding, dogs with sensitive coats and skin, and dry coats that may need a little extra love.
Even if your pet-care company doesn't have a large grooming operation and you're more focused on daycare and boarding, items like the Pride + Groom pet grooming wipes can come in handy. For pets with a little too much fun in your care, giving their face or paws quick spruce up before handing them back to their owners is great customer service. You can even offer products like these in your retail store!
FURminator Deshedding Grooming Rake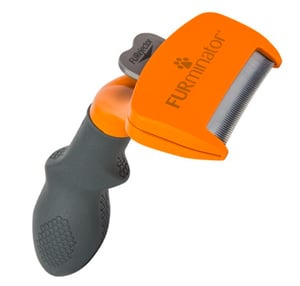 FURminator De-Shedding Grooming Rake
Using a FURminator de-shedding grooming rake can be life-changing for pet owners whose dogs or cats have dense coats or thick undercoats. This handy product reduces loose hair by reaching through the topcoat to remove dead hair in the undercoat, all without impacting the soft topcoat. When used on cats, the FURminator also reduces hairballs!
FURminators have been around for years, and pet owners and professionals who use them can't say enough good things about how effective they are at keeping their pets' coats healthy.
Bissell Dog and Cat Nail Clippers
Cutting a cat or dog's nails at home can be a real challenge, which is why nail clipping is one of the most requested grooming services pet-care businesses offer. Some pets struggle to sit still so their owners can safely trim their nails; others find getting a quick trim ticklish or terrifying!
Because this is one service that so many pet parents simply can't do on their own, using a high-quality product like Bissell is essential to performing this tricky task with flying colors.
Bissell Dog and Cat Nail Clippers have a quick guard to prevent groomers from cutting too close to a pet's nail line and a built-in file to smooth out rough or chipped nail edges for the perfect finish. Trusted brands like Bissell will give your four-legged customers a stress-free experience and great trim every time. And, because these nail clippers can be on cats and dogs, your grooming business can purchase one product instead of two!
Hartz Groomer Combo Pet Brush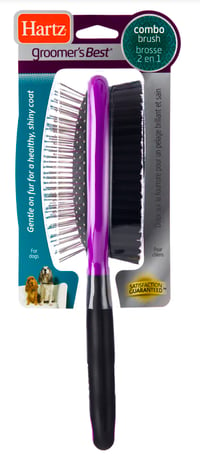 The Hartz Groomer's Best Brush for Dogs
Traditional pet brushes are great, but two-in-one pet brushes are better. The Hartz Groomer's Best Brush for Dogs is the perfect grooming product for pet-care professionals. One side of the brush has thin, flexible bristles with molded tips that detangle coats, prevent matting and remove loose hair. The other side of the brush contains thick nylon bristles that work within the coat to distribute oils naturally found in the fur.
This dual-action brush gives pups a lush, shiny, and smooth coat. It's a must-have for every growing pet grooming business.
Andis AGC Professional Clipper Set

Andis Professional Clipper Set
Universally-loved professional dog clippers work on long coats like a Golden Retrievers', curly coats like a Poodles', and the wiry coats of terrier breeds.
The Andis Professional clippers are the creme de la creme of professional grooming tools. The AGC clipper set comes with four attachment combs. A locking blade hinge keeps the clipper blade safe and secure, and a motor that stays cool during use and requires no oiling.
The clippers are also super quiet, which helps pups stay relaxed while groomers work on sensitive areas like the muzzle, ears, and paws.
Mars Coat King Dematting Undercoat Rake

Mars Coat King Dematting Undercoat Rake
Busy pet grooming businesses value products that allow them to work quickly and efficiently, and the Mars Coat King Dematting Undercoat Rake helps them do just that. Unlike regular grooming brushes, the Mars Coat King strips large areas of matted fur in a short period of time. In addition, the unique design pulls matted hair gently away and works wonders on dogs with sensitive skin.
Mars also makes several fine-toothed coat stripping knives for use on long ear hair and on the area around the eyes where a high precision tool is necessary.
Flying Pig Grooming Table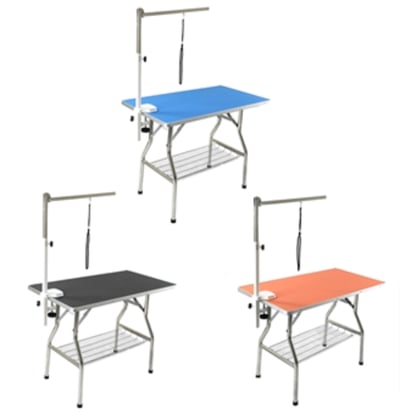 Flying Pit Grooming Tables
Flying Pig grooming tables are considered the gold standard by professional groomers everywhere. With their non-slip surfaces, sturdy rubber-bottomed legs, and handy storage basket to hold all your grooming essentials, the Flying Pig grooming table is a groomer's dream! These tables also feature an adjustable grooming arm and strap, and some versions can hold up to 330 pounds!
This trusted brand has been helping keep pets safe and secure for years, and it's consistently ranked the best overall grooming table by grooming businesses around the world.
Summing Things Up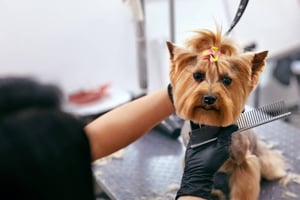 To meet the needs of their customers, newer pet-care businesses should purchase the best professional dog grooming products and tools to exceed the expectations of their two- and four-legged clients.
Grooming businesses that have been around for years already have a list of clients and dedicated employees, and their reservations are booked weeks in advance. However, to compete with their more established counterparts, growing grooming businesses must invest in quality products from trusted brands with reliable reputations. In addition to the best shampoos, conditioners, and hair clippers, integrating an all-in-one grooming software into your day-to-day operations will help your business soar.
Software solutions like Revelation Pets pet-care software have the features you need to make your life easier and your customers' lives easier. The software provides your business with a sleek, professional online look that shows you take your new business seriously and includes a suite of tools designed to work across all segments of the pet-care industry. So if you ever expand into daycare or boarding, Revelation Pets has you covered!
Additional Resources to Grow Your Pet-Care Business
Don't stop with this list—learn even more about pet-care tools and strategies with some of our other dedicated resources on these topics: