Natalie Thompson, the owner of the K9 Development Centre, located in Surry, is passionate about dogs. What started out as a small dog walking business in 2012 quickly turned into so much more.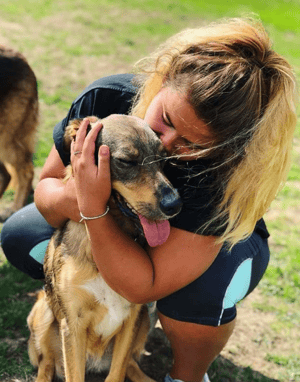 As Natalie explains, "We were initially a dog walking company, but K9DC grew year after year as we produced new and exciting ways to incorporate training, enrichment and physical/mental stimulation into dogs' daily routines."
With her services expanding, Natalie knew it was time to start looking for a software solution to meet the needs of her growing business. As she started her search, one thing was clear, Natalie wanted a pet-care software that would meet her current needs, but also grow with her into the future as she and the team continued to dream up new ways to offer personalized experiences to their customers.
"We were looking for a system that has the ability to cater to the individual services we offer as well as helping to add the personal touches we were looking for in terms of achieving the highest level of customer service," says Natalie.
Natalie had a vision for her business: She didn't want to sacrifice the company's reputation for personalized customer service as she continued to scale. To meet this need, she implemented Revelation Pets' pet-care software.
From a customer service standpoint, Revelation Pets had just the features she needed: convenient online check-in for guests, helpful booking reminders, and the ability to add personalized client notes to pet profiles so her guests would have a great experience each time they were in her care. This enhanced level of customer engagement is just one of many things that sets K9DC apart from other pet service businesses.
One way the team uses Revelation Pets to increase customer engagement is by using the software's activity reports feature. With this feature, the team can send fun photo updates to pet parent clients so they can see what a barking good time their pups are having at K9DC.
"Our favorite Revelation Pets' feature is the activity report," says Natalie. "We love the ability to provide the owners with a write-up alongside photographs of their dog's time with us."
This way, every time a client books a training session or an afternoon in dog daycare, Natalie can turn that booking into an opportunity to engage with a client, and their pup, in a new and meaningful way. Now, a trip to doggie daycare isn't just fun for the dogs in K9DC's care, it's also fun for the owners!
"Helping dogs develop into a better version of themselves — whether it's graduating to off-lead, playing with another dog for the first time, or achieving something an owner never thought possible — is the greatest feeling. Every single day is incredibly rewarding. I couldn't wish for a better career!" says Natalie.
Whether her customers book a training session, a night of pet sitting or a fun day of socialization, Natalie can depend on Revelation Pets to support her now, and as she scales into the future and continues to follow her passion of supporting people and their pets.
Says Natalie, "Revelation Pets has made the running of the business so much more efficient, self-sufficient and professional. We wouldn't be without it now!"