Jill Loomes has a soft spot for small dogs. When she noticed her Cavapoo puppy Heidi was uncomfortable going to dog daycares that also accepted medium and large dogs, she had an "aha" moment: Create a fun daycare and boarding facility that only catered to small breed dogs and puppies, so they could feel more comfortable in a new environment.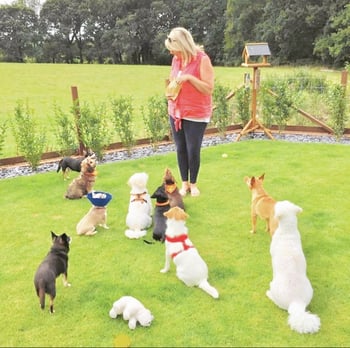 "We discovered there was nowhere safe for small breeds and puppies to feel safe and happy together while they were away from home," says Jill. "Most kennels didn't cater to puppies like Heidi, and kennelled large breeds too, which would have terrified her."
And with that, Jill quit her job as a children's nurse and created Diddy Dogs Lodge, a specialized doggie daycare and luxury boarding facility in Hampshire that meets the needs of small dog owners just like her.
One of the first concerns Jill had when she started her pet-care business was how she was going to organize her operations and provide her clients with the ability to make online booking appointments for daycare and boarding. On the recommendation of a friend, who told her, "how great Revelation Pets was, and how she couldn't run her dog boarding business without it," Jill decided to implement Revelation Pets' pet-care software for her small business too.
A number of Jill's clients have more than one small dog in their household, so it's no surprise that one of the most helpful Revelation Pets' software features for Diddy Dogs Lodge is the ability to customize discounts for multi-pet households whose pets share a daycare or boarding booking. Offering this discount is a great way to incentivize her clients to continue booking, and save them some money along the way.
"Using the software to be able to book more than one dog from the same household and add a discount, has been a huge help," says Jill.
While the cloud-based daycare appointment booking feature is the software feature Jill uses the most, she also appreciates that she can boost customer engagement by providing a daily report card for each pup's stay. This feature is especially useful for clients who are members of the Diddy Dogs Lodge Puppy Club. The daily report card feature allows Jill to share a puppy's progress as they learn socialization skills, and let a pup parent know how their puppy enjoyed playing in the ball pool, the sandpit, or the activity tunnel!
Thanks to Revelation Pets' pet-care software, Jill says, "I've organized my business, I can email clients, send reminders about fees, allow reviews — and it's so reliable too!"
Seeing the puppies develop as they spend time at Diddy Dogs is Jill's favorite part of the job and with Revelation Pets' software organizing the needs of her entire business, she can spend more time doing what she loves.