Fetch Pet Resort, a boutique luxury pet boarding facility located on the East Coast of Australia, offers the type of pet boarding any pup parent would love. Owners Neve and Bryce created Fetch Pet Resort in 2020 because, as Neve puts it, "We wanted to provide our area, a well-known holiday destination, with pet boarding that was a little bit special: comfortable rooms, big play yards and forest walks! We built a facility where we would be happy to leave our very spoiled and much-loved fur-babies."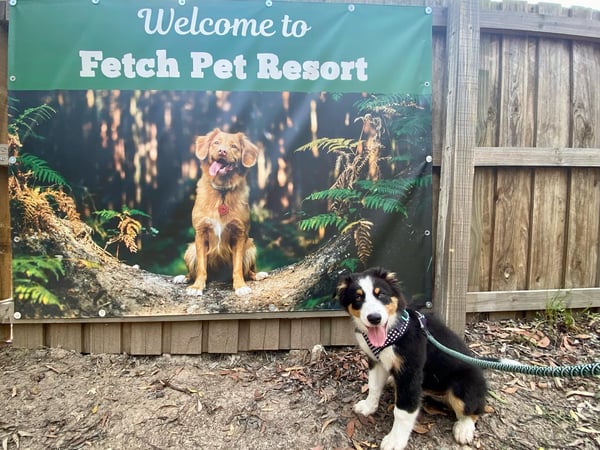 Neve started using Revelation Pets software because, in her words, "It stood out amongst other pet industry software as being the most user friendly for both owner and customer, with a better, more modern design. It also has a great host of features."
As Neve and other pet business owners like her have experienced, this modern approach puts convenience at the center of the user and client experience. With user-friendly features like the interactive calendar overview, and Revelation Pets' easy integration with popular online payment processing platforms like Stripe, doing business online is a breeze.
"Now that the platform is integrated with Stripe, it's made accounting much easier and streamlined," says Neve. "It's always good to reduce friction when it comes to accounting!"
Small business owners are great at recognizing opportunities to increase community engagement and finding creative ways to offer fun and unique services to their customers. For example, once Neve started using Revelation Pets' software, she realized the birthday report feature could be used for so much more than a once-a-year 'happy birthday' shout-out.
"I noticed that the birthday report will tell me when pets have upcoming birthdays," Neve says. "This is really useful for offering a birthday discount or planning a party!"
Pet parents love celebrating their pups. With this simple hack, Neve hasn't just found a way to increase engagement with her community of clients, she's found a creative way to offer another fun and unique service to her customers, and add a new revenue stream for her business!
Fetch Pet Resort set out to create a wonderland for dogs, a place for fun, experience-driven services like the Fetch Forest Walk that creates "an absolute feast for the senses!"
With Revelation Pets, the impact on Neve's business couldn't be clearer.
"It's made us modern; anyone can book online via our website. We've had lots of feedback about how seamless this is and the great communication customers received," says Neve. "It also documents everything automatically, which is much better than us trying to do that manually and takes a whole lot of admin work off our plate."