When Danielle Haase moved from Sydney to Orange, Australia, she was confronted with a problem: Her new town lacked any boarding or dog daycare options for her two pups, Diesel and Blue. Danielle was certain she wasn't the only person in the community experiencing this problem, so she came up with a solution: She created her own local pet-care business, Diesel and Blue Doggie Daycare and Grooming!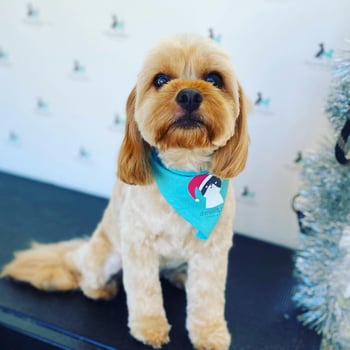 Starting a business from the ground up is no easy feat, particularly in a services-based business where providing a great customer experience is key to success. With this in mind, Danielle wanted to take a modern approach to both her internal operations and her company's online presence.
"When I was designing the business plan, I reviewed a number of providers in the market place and Revelation Pets was by far the best in terms of user-friendliness and the various modules," says Danielle.
Modern pet services businesses like Danielle's depend on Revelation Pets' cloud-based pet-care software solution to power their operations and empower their customers. Today's customer wants fast service and an easy communication experience. Essentially, they want the ability to book services when, how, and where they want.
That's why features like Revelation Pets' online booking and payment solutions are a company and client favorite at Diesel and Blue Doggie Daycare and Grooming.
"We've just turned on online booking and payments, which our pawrents have been asking for, and we love it!" says Danielle. "We love the auto communication features because it makes customer communications so much easier."
The idea of a client experiencing a busy signal on the phone is a business owner's worst nightmare. Providing her clients with the ability to make and pay for daycare, grooming, and boarding stays when and where they're able, is a dream come true for Danielle and her team.
Features like these also free up staff time, which helps her business run more efficiently.
"We've just discovered the vaccination expiration date mail feature, and this will hugely cut down on our workload, as we've been manually reminding customers until now," says Danielle. "We've also just turned on the review function. It's a massive time saver in not needing to manually ask people to provide a review. Revelation Pets has thought of everything and it definitely shows an understanding of our business to ensure the UX is the best it can be."
Time-intensive tasks like manually tracking and updating vaccination records, and calling to remind clients when they need to renew expired records, divert valuable labor resources from other areas of Danielle's business. Housing these records and reminders in a central location is a time-saving solution the entire staff loves.
Integrating Revelation Pets' software has really paid off for Diesel and Blue Doggie Daycare and Grooming. In the two years since it's opened, the business has expanded into a larger facility. It now employs 11 staff members, grooming appointments are booked two weeks out, and the hardworking team manages close to 200 bookings a week!
Danielle doesn't want to understate the impact Revelation Pets has had on her pet-care business.
"Wow, we just wouldn't be where we are without it," she says. "I can't imagine how we would stay so organized without Revelation Pets!"