Dawn Brown, the owner of Rose Cottage Doggy Hotel and Daycare, a luxury dog hotel and daycare in Chesterfield, England, understands how important it is to create customized experiences for her furry clients. To make every pup's stay at The Rose Cottage special and unique, and to set her pet-care business apart from the competition, Dawn offers services like paw and nose balm moisturizers and blueberry facials in the grooming side of her business, and a number of customizable doggy party packages with fun add-on extras like personalized balloons, cakes, and treat bags. Pup parents can even book an entire, fully enclosed grassy field for their fur babies to play in!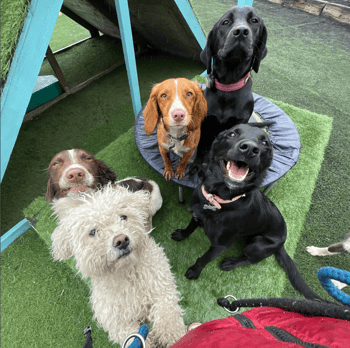 Offering such a wide variety of services meant that Dawn's business needed pet-care software that was flexible enough to let her create tons of customizable service packages, but not at the expense of complicating her customers' user experience. She also wanted a software solution that was easy to use, allowed self-check-in, online booking, and gave clients the ability to pre-purchase daycare credits.
To manage all of the segments of her pet-care business, Dawn selected Revelation Pets.
"I love all of the software's features, but allowing owners to book our services online at any time is my favorite," says Dawn. "It's helped us streamline our customer booking, and took away the time element of manually creating bookings."
Small business owners like Dawn love Revelation Pets' online booking feature because allowing pet owners to make their own reservations online frees up staff to devote more time to their four-legged clients. When a customer books a reservation through the Revelation Pets online customer portal, automatic booking confirmation is sent to both the client and the business, so there's no confusion over whether or not a booking is confirmed. Helpful, intuitive features like these are just one of the reasons small business owners love Revelation Pets.
Revelation Pets was designed to make life easier for small, independent pet-care businesses, which is why it's ready to use right out of the box. But, should Dawn and her team need a little extra support with how to best use the software's many tools and features, she simply consults the library of helpful how-to videos included with the software. These videos quickly get her up to speed on integrating new features like Quickbooks, MailChimp, or Google Calendar.
According to Dawn, "the videos that Revelation Pets provides for its users help the team solve any problems they may encounter."
With a library of how-to videos, and a dedicated customer support team, Revelation Pets is always there to help Dawn find the solution she's looking for, so she can continue providing fun pet services to the pups in her community!