Good Dogs Daycare Managing Director, Amy Kershaw, discovered she had a problem shortly after opening her Preston-based pet-care business. Her new business was adding new services and clients, but because the business's operations were performed manually, every piece in her processes was dependent on how quickly staff could do things like create or modify a reservation, draft a feeding or walking schedule, and process payments.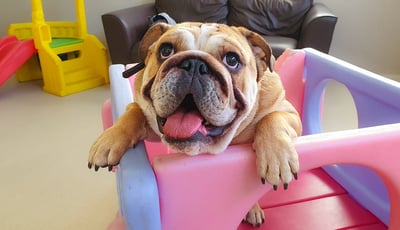 "I used to use a pen and paper method before Revelation Pets," says Amy. "Keeping an eye on payments, bookings and everything in between for 40 dogs a day used to be a literal nightmare and really made my job stressful!"
Amy needed to migrate her entire operation from a pen-and-paper, manual-based process to a digital, cloud-based operation in order to continue scaling and deliver services quickly and efficiently to her clients and their fur-babies. What Amy needed to do was no easy feat, thankfully, she knew just the type of pet-care software platform necessary to help her transition.
"I needed a system which allowed me to take payments, make bookings, look at capacity and share pictures privately with customers! I discovered Revelation Pets does all this and more!" says Amy.
Today, Good Dogs Daycare has achieved a community-awarded 5-star rating and employs six full-time employees. Amy's customers are able to book all of their reservations online, modify existing reservations, and schedule Good Dog's convenient taxi service, all without making a call or getting assistance from staff.
The more Amy and her team use Revelation Pets' pet-care software, the more hacks and tricks they discover that help the business continue to scale and run more efficiently.
"I love that appointments are automatically added to my Google Calendar! Which is great for keeping track of taxi service and baths," says Amy. "I also love the birthday feature, which allows us to celebrate all the dogs' birthdays!"
Because many small businesses like Good Dogs Daycare rely on platforms like Google Calendar, Mailchimp, Stripe, and QuickBooks to serve their customers, Revelation Pets' includes built-in integrations with these popular technology partners.
Revelation Pets' digital tools have streamlined Amy's operations, her staff is less stressed and the clients are thrilled with the services they receive, just ask Amy!
"Daycare runs so smoothly now," says Amy. "We can easily check availability, and add appointments, and that really allows us to focus more of our time doing what we love, looking after dogs!"