Follow these best dog boarding website tips and essentials to market your business, strengthen your public image, and streamline the online customer experience.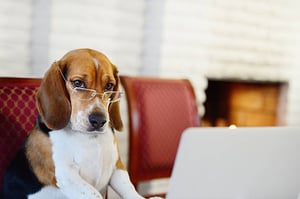 Creating a professional, easy-to-use website is crucial to launching your new pet-care business and establishing your brand in the community. In addition, a robust digital presence will help customers in your area discover your business when they search the internet for pet services and provide a platform for you to advertise your goods and services to pet parents in the community.
One of the most challenging things about starting a new business is gaining consumer trust — this is especially true in the pet-care industry. Because you're not just providing a service, you're caring for a member of someone's family. Establishing your brand on the internet and creating an online community filled with client testimonials, reviews, colorful photos of your employees in action, and links to social media accounts do wonders to instill that sense of trust.
As you use these dog boarding website tips to perfect your digital presence, consider the added benefit of integrating your site with specialized pet-care management software. These tips, combined with software designed specifically for your industry, will help you organize your online and in-person operations, create a better customer experience, and increase traffic to your business.
These are the top strategies that consistently appear as elements of a successful dog boarding site:
Include essential business information
Perfect your visual design and storytelling
Leverage the power of SEO
Ensure your website is mobile optimized
Facilitate easy appointment scheduling
Streamline payment processing and registration
Take advantage of e-commerce opportunities
Include Essential Business Information
The Landing Page
A well-thought-out website landing page provides the perfect opportunity for prospective customers to familiarize themselves with your pet-care business. However, to help pet parents determine if your business is the right fit, you'll need to provide a comprehensive overview of all the services you offer and basic information.
Essential items to include are:
Hours of operation
Location
Contact information
An SEO-rich description of the business
Services
Links to social media
If you offer more than one service, like cat boarding, in addition to dog boarding or specialty dog and puppy training programs, mention those too.
The ultimate goal of this page is to entice a prospective client to seek more information or act on the information available by booking a service right then and there.
Additional Pages that Highlight Services, Amenities and Events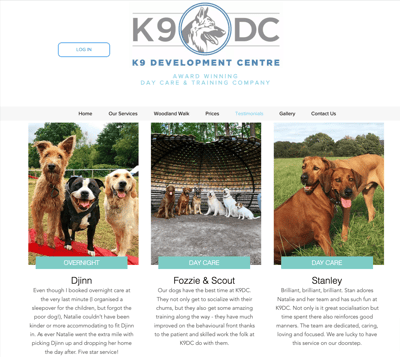 When your landing page is complete, add a few additional pages to your website that detail the goods and services you offer your local pet community.
Consider pages for:
Dog boarding - packages, prices, multi-dog discounts
Daycare - weight restrictions, playtime extras
Grooming - a menu of grooming services, prices, and spa add-ons
Client testimonials and reviews. Check out how Revelation Pets customer K9 Development Centre highlights testimonials with pics of the dogs!
FAQs
Community news and events
Building out these pages to show your customers what makes you unique in the pet-care space is a great way to separate yourself from the competition and build a loyal following within your local pet community.
Perfect Your Visual Design and Storytelling
Your website represents your business to the world. Creating a sleek, professional-looking website with engaging elements like colorful photos and videos will help you tell your business's story and show that you care about how your business presents itself.
For newer dog boarding and pet-care businesses, your dog boarding website must present its personality to new customers to understand how you will care for their pets when they drop them off for a day of play or an overnight stay.
Capturing photos of team members playing with pups or groomers providing fun spa treatments do wonders for showing off your team's skills and the great experience you provide all the dogs in your care.
In addition to engaging visual elements, your website should be easy to navigate so that customers can locate the links they need right when they need them. Giving customers the ability to book reservations online, upload vaccination and medical information, and provide clients with professional-looking digital pet-care agreements instills a sense of trust in your audience.
Choosing the right dog boarding and kennel software can significantly impact the visual design of your website. Using pet-care software whose features make your customers' lives easier demonstrates that your new business isn't just in the pet-care business; it's in the business of providing a simplified customer experience.
Leverage the Power of SEO
Creating an SEO strategy is one of the quickest and easiest ways to get your name out in your community, especially if your dog boarding business is relatively new and you're actively trying to gain consumer trust and acquire new clients.
SEO, or "search engine optimization," is the process of improving the quantity and quality of the content on your website so that search engines like Google can match your business with prospective customers looking for pet-care services.
As far as dog boarding website tips go, including keywords and phrases on your site that indicate where you're located and what services you offer can do wonders for driving traffic to your site. For example, using specific terms like "cage-free dog boarding in Sussex" or "luxury dog grooming in Sydney" will differentiate you from other pet-care businesses.
Pet-care brands just getting started can see a real boost in new customer acquisition and create a loyal consumer base by devoting time and resources to SEO content.
Camp Jimmydog, a Tuscon-based dog boarding business, is an excellent example of how to include SEO in a dog boarding website. On their business's landing page, they use searchable terms like 'Tucson area with cage-free, home-style boarding' throughout to gain digital search traction.
Ensure Your Website is Mobile-Optimized
Cell phones are a way of life. More people search the web on their phones than on desktop computers. We take our cell phones with us everywhere! Your website must be properly formatted if your business's traffic comes from mobile traffic.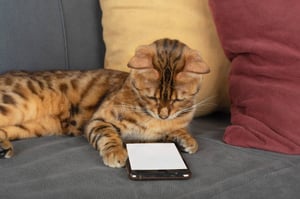 If the idea of making sure that your website is optimized for mobile devices is overwhelming, don't worry; it doesn't have to be! Integrating your pet-care business with the right dog grooming, boarding, or training software is easy to optimize items like new customer registration and pet profiles and online booking forms.
When checking whether your website is mobile optimized, ask yourself:
Is the information on the page easy to read on a mobile phone?

Are the service tabs, about us section, and reservation button easy to find?
How far does a customer need to scroll before getting the answers they need?
Is the content formatted to fit on the mobile phone screen?
Ensuring items like these are easy to navigate will improve the likelihood that a potential customer will continue exploring your site rather than continuing their search for pet-care services elsewhere.
Facilitate Easy Appointment Scheduling
If a customer has discovered your website and is exploring your services, there's a good chance they're ready to book a boarding stay, a grooming appointment, or a day at doggie daycare.
When a customer is ready to book, you want to make it as easy as possible for them to take that next. Creating a seamless online booking is using an intuitive dog boarding software like Revelation Pets. Offering appointment scheduling right from your website without the extra step of calling and speaking to a staff member on the phone is a huge advantage in the competitive world of pet-care services.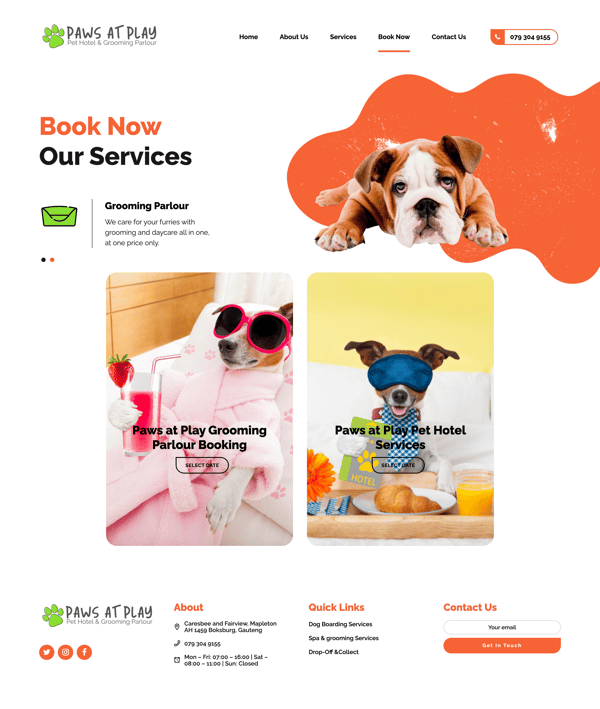 Paws at Play, a Revelation Pets customer, makes booking appointments a breeze with fun, eye-catching photos.
Your website should have the ability to offer online appointment scheduling for each service you offer, including:
Boarding

Grooming and spa services
Daycare
Streamline Payment Processing and Registration
Accepting payment for your services is the final step in securing a new online client. In other words, a lot is riding on this last transaction. We've all encountered websites whose payment process was so confusing that we just gave up and moved to a different website rather than trying to figure things out.
Newer dog boarding businesses rely on streamlined payment processing and registration more than their already established peers because they are still building brand awareness and working to win new customers.
To help this process, your registration and payment processes should be secure, easy to use, and support various payment methods. Giving pet parents options like online subscriptions for grooming and boarding, services they frequently use, is another excellent way to simplify payment and registration.
Revelation Pets pet-care software makes paying for reservations and invoices as easy as clicking a button! Trusting professional pet-services software with creating a secure check-out method will provide you and your guests with peace of mind.
Take Advantage of E-Commerce Opportunities
E-commerce isn't just a great way to create more income for your dog boarding business. It's an effective way to build your brand and market your company. Creating a logo with a specific color scheme and integrating that into everything from dog collars and leashes to tote bags and apparel helps express your brand's personality to your community.
You can also use your website to sell treats, products and other items. Take a look at Revelation Pets' customer Good Dogs Daycare's virtual storefront.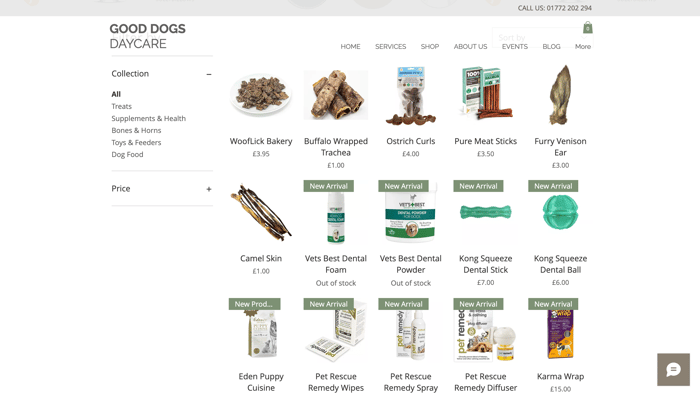 Revelation Pets' customer Good Dogs Daycare's virtual storefront
What's excellent about leveraging the power of pet-care software is that e-commerce transactions can be managed all in one place. Revelation Pets allows you to track your inventory, add new items, and analyze how each piece performs over time.
Ideas like this don't just provide an additional revenue stream for your business. Still, satisfied customers sporting your apparel is an incredible way to advertise your services to other pet lovers in the community.
---
Your website is a springboard for developing your new pet-care brand. Using these dog boarding website tips and strategies will help you create a digital presence that attracts new customers, establishes you in the community and secures repeat business for years to come.
Additional Resources
Want to learn more about dog boarding business best practices and software to enhance your strategies? Explore these helpful resources: