In 2011, Anna Bryant created a solution in her community of Worthing, West Sussex, for dogs who don't do well in multi-dog kennel settings. Dog Boarding Sussex is a unique home-based dog boarding business that matches pets in need of private boarding with dog-loving community members. This low-stress boarding option for pets who prefer one-on-one attention serves dozens of pet owners and their pooches at any given time.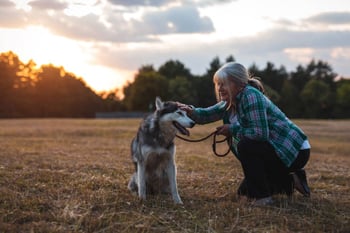 As Anna explains, "The business offers holiday stays for dogs whose owners don't want to put them into kennels. Dogs stay with vetted and insured 'hosts' who do not have dogs of their own. Over the years it has spread from my hometown to various towns within a 15-mile radius. I run the business right from my home."
Managing dozens of reservations that are distributed at homes across the community has its challenges. Several dozen families participate in the program, and each dog has their own unique needs. These challenges become especially apparent when a pup's boarding reservation must be split between two homes. Thankfully, Revelation Pets' pet-care software is there to help Anna work out the details and manage the logistics.
"I use the calendar feature the most," says Anna, "I couldn't run my business without it. It's easy to see which hosts are free in which area if I have to split a long-term booking between two hosts. If I didn't have the calendar, it would be like playing 3-dimensional chess wearing a blindfold."
By simply referencing the Revelation Pets' boarding calendar feature, Anna can identify which hosts have the ability to accommodate a split reservation so that reservations don't overlap and everyone's needs are met. She can also share the client profile information, including special feeding instructions, medication needs and notes about the dog's personality with their hosts.
Most small business owners don't start a business to get bogged down with accounting tasks and sorting through financial information. Juggling payment details, deposits, invoices and reservations can be challenging when hundreds of customers are involved. Luckily, Anna's discovered a trick to manage these varying degrees of financial limbo — the Revelation Pets' customizable booking form and color-coding system.
This simple feature turns complicated financial information into at-a-glance ease. With a quick scan, she can see which clients may need a nudge to finalize payment, who needs a follow-up note to confirm a booking, and who needs an invoice.
"Using the colour coding on the booking form enables me to see which bookings are paid for, held on a provisional basis, partially paid, and where an invoice has been issued," says Anna.
Dog Boarding Sussex fills an incredible need in the community for dogs who otherwise wouldn't be able to stay in a traditional kennel. Anna's pet-care business isn't just helping pet parents match with caring hosts, she's strengthening ties in her local community, and Revelation Pets is proud to help!