Seathwaite Cattery, a pet services business in Kent, England, first opened its doors in 1958 and operates a unique business model that allows it to function as both a boarding cattery and a charity that rescues unwanted and homeless cats. This approach allows Seathwaite Cattery to provide pet-care services to the community, while also helping cats in need.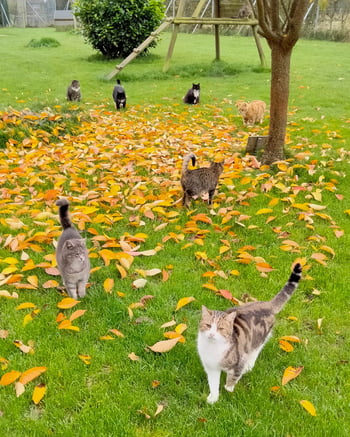 Tracey Jell, Seathwaite's longtime manager, has been with the company for over thirty years and has seen the company undergo a number of changes, including migrating their legacy software system to Revelation Pets specialized pet business software.
Seathwaite's cattery is a busy place. On any given day, when both sides of the facility are at full capacity, they house, manage, and care for almost 300 cats, each with their own profile, individual medical information, and dietary needs. For a high-volume cattery like Seathwaite, having efficient processes in place to manage the needs of both sides of the business is essential to the facility running smoothly.
"Our cattery has always been very busy," says Tracey. "We are licensed for 120 cats [in the boarding cattery], so Revelation Pets software is extremely helpful. We are also a rescue centre and we have a different program for that, which holds the records for 143 cats."
With so many animals coming in and out of the cattery, it makes sense then that the business's most used feature is the popular dashboard calendar, which offers an overview of each day in the cattery.
"We operate with the calendar screen on view on our desktop PC, and we have the home screen open on our iPad so we can tell at-a-glance who to expect," states Tracey.
The at-a-glance dashboard makes it so easy to have an instant, bird's-eye view of the day so that each staff member is prepared to execute decisions quickly. Having information like the number of arrivals and departures, and occupancy changes that will occur over any given staff shift ready at their fingertips makes daily operations a breeze!
Seathwaite's five full-time staff members have even discovered helpful time-saving hacks while using the cattery software.
"We love the way we can just move a booking on the calendar screen from one pen to another without having to go into the actual booking," says Tracey.
Minimizing the number of steps to make changes to booking dates by dragging and dropping changes, rather than navigating to the booking, manually changing the calendar date, and then going back to the calendar overview again, saves staff time and helps this busy cattery run more efficiently.
Integrating Revelation Pets' user-friendly cattery software into their hybrid pet services business ensures Seawaithe can continue to support its mission of providing safe homes for unwanted cats, while also offering pet boarding services to the Kent community - a win-win for everyone!