Lisa, the owner of Tauranga Cat Hotel in Bay of Plenty, New Zealand, is a seasoned pet-care professional. When it came time to structure her newest venture, the Tauranga Cat Hotel, she made the decision to create an operational flow that allowed her to run the entire business by herself, without any support staff. It's a unique balancing act and one that she depends on Revelation Pets' software to help her in every aspect of the business.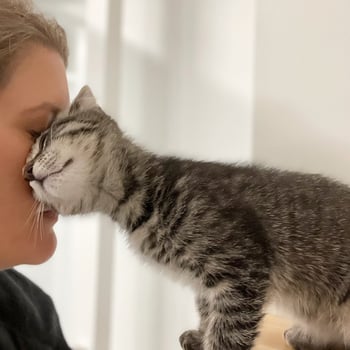 Being the only employee means Lisa must maximize her business's efficiency wherever she can. In her singular role, she manages the accounting, reservations, customer support, the care of the cats staying with her, and everything in between.
"When I started looking around for software for the previous cattery, there was nothing else on the market that compared to Revelation Pets," says Lisa. "Having worked for surgeons prior to that, I knew I needed a booking management system to allow me to do my job well. When we created Tauranga Cat Hotel, I knew I had to use Revelation Pets again, and couldn't wait to do so!"
A business owner in Lisa's position doesn't have the time or the manpower to do things manually, which is why she depends on Revelation Pets' customer-friendly features to stay organized and manage the day-to-day needs of her business. For example, the easy-to-navigate online portal gives prospective and returning clients the ability to check boarding availability, make an online payment, or cancel a reservation — all without ever having to make a phone call to the cattery.
"Revelation Pets' never lets me down," says Lisa. "It does everything I need to do to run my business effectively."
With the click of a button, Lisa can populate a report that will give her occupancy numbers, a list of upcoming arrivals and departures, and show which bookings are still missing their deposit. Knowing whether or not a guest plans on canceling a future booking can have a big impact on a boutique cattery like Lisa's.
To avoid last-minute cancellations, Revelation Pets' software even allows her to send an email or text message nudge to any customers with outstanding deposits so she can release the reservation and make it available to another client or confirm it. And, clients who need to change a reservation date can easily do so on their own, without ever making a call to Lisa.
"Revelation Pets has made it possible for customers to book online, turning a possible customer into a definite customer," she says.
Revelation Pets features and tools make Lisa's life easier, so she can make the lives of her customers, and their kitties, better too!