Christina Dos Santos knows a thing or two about how important peace of mind is to pet parents. In fact, that feeling of uncertainty and anxiety about leaving her pets with a stranger is what led her to create Paws at Play Pet Hotel & Doggie Parlour, her pet-care business in Boksburg, South Africa.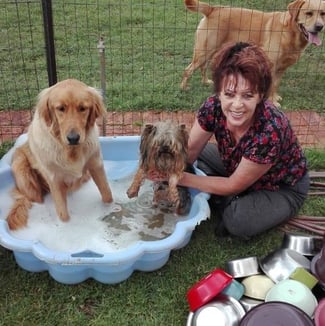 "Ten years ago, I wanted to go away on holiday and could not find a suitable place to leave my Yorkies. I ended up canceling my holiday and designed a suitable place to leave my own dogs whilst I was away," Christina says. "Paws at Play caters to all types of dogs: big and small, fancy couch potatoes and crazy run-around pooches. The property is 27 hectares with luxurious cottages and penthouses, for bedtime."
Christina's top priority for her new business was creating a space she'd be comfortable taking her own pets to. In order to achieve that, she needed to build a user experience that felt professional right from the start. She also needed tasks like making and managing reservations easy and accessible for both her staff and her customers. With Revelation Pets' cloud-based pet-care management software, Christina has both! She and her staff have the freedom and flexibility to manage bookings, scheduling, and they can stay in contact with customers, wherever they may be. And her customers can do the same!
"My favorite feature is the fact that everything with Revelation Pets is online," says Christina, "And I can work from anywhere."
Because the software was designed to use right out of the box, the ease of use means that staff of all levels can quickly get up to speed on how to assist clients online, adjust bookings, if necessary, and review important information like boarding and grooming schedules. And, one look at the software's dashboard view gives them all the information they need for the day.
"It is very easy to use," says Christina. "Even my new staff manage to easily use it within a day of trying the software."
Christina has even discovered a helpful unexpected feature, or "hack," while using Revelation Pets, one that helps her forecast the needs of the business.
"The reporting feature allows me to see the actual month-to-month turnover," she explains.
Today, Christina couldn't be happier with Revelation Pets' pet-care software, and the impact it's had on her business.
"I've tried many programs," she says, "But Revelation Pets is the best ever, and I will never change. We stand out from the rest now. It's very professional and loads of client info is available with the press of a button!"
With Paws at Play Pet Hotel & Doggie Parlour, Christina has created a company she would be proud to send her own pups to, and she's happy to provide that same peace of mind to her customers and their fur-babies.