In Vancouver, British Columbia, cat owners in need of premium pet accommodations for their fur-babies put their trust in the knowledgeable staff at Alley Cats Hotel, so when pandemic travel restrictions were lifted across Canada, this luxury cat hotel saw their occupancy rates nearly triple. Almost overnight, the cat boarding facility went from a 20-30% occupancy rate all the way to 70-100%. With each new booking also came new owner and pet details, feeding instructions, medical information, invoicing, and staff scheduling.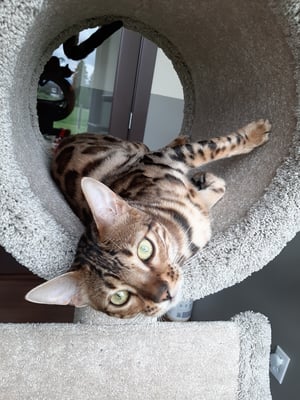 While Ignacio and Paula Romero, the husband and wife team who own and operate Alley Cats Hotel, are lifelong pet owners, they only recently acquired the cat boarding facility from the previous owners in June 2021, and the sudden increase in bookings took them by surprise.
With only a small, but dedicated, part-time staff of three to assist, efficient time management and detailed record-keeping became all the more important to ensure operations ran smoothly during the boom in business.
"Revelation Pets was already in place when we purchased the business," says Ignacio. "It proved to be super helpful, from managing all of the customer details to bookings, to cancellations, etc."
All Revelation Pets users have their favorite, can't-live-without feature, and for Ignacio, that's the easy-to-read software-generated check-in/check-out reports that help him plan his staff scheduling. But, during this recent surge in bookings, it was the Dashboard feature that was most useful. With the Dashboard, Ignacio can view both the day-to-day and macro details of the business.
"I enjoy the Dashboard tools and reports; being able to quickly search for customers, pets, billing addresses, etc., saves time and makes my work more efficient," says Ignacio.
But that's not the only benefit Ignacio has noticed. With Revelation Pets, taking care of all the details in the background, Ignacio and his team can do what they do best: providing the elevated level of service that their four-legged guests have come to know and love!
When asked what Revelation Pets means for his business, Ignacio says, "It has become the core foundation to run our business; without it, we wouldn't know where to start!"