It's no secret that cats are discerning customers; they're not happy in just any old accommodations. So when Satomi and her husband took over the Aloha Cat Hotel, a Hawaiian cattery located on the beautiful island of Oahu, they created a cage-free kitty paradise, complete with individual suites, rooms, and an island-inspired play area.
"We took over the business from the previous owner seven months ago," Satomi explains. "We renovated the entire property, and created a very unique setting for our furbaby guests."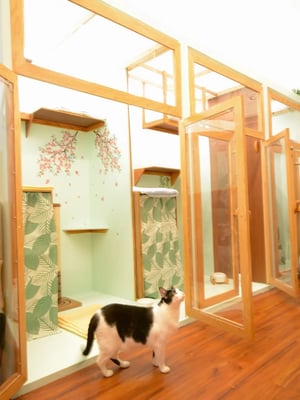 The cattery's previous owner already had Revelation Pets pet-care business software in place, and Satomi didn't want to change what was working so well for the business. As she became more embedded in the business's operations, it soon became apparent how crucial the software was to its success.
Aloha Cat Hotel offers six types of rooms and suites for their feline customers, and each room has a different cost per night, with rates changing depending on if the client is making a reservation for more than one cat. In addition to that, Aloha Cat Hotel also offers clients a discount if they stay longer than 10 nights.
"There are times when we have last-minute boarding conflicts," says Satomi. "When reservations change, that can impact our business operations."
With so many variables impacting the price of the reservation, this small business relies on Revelation Pets to manage and track the details of each stay to ensure pricing is accurate, reservations don't overlap, and suites are not overbooked. As a newer pet-care business owner, managing details like this would be difficult without the right pet-care management software.
Satomi also appreciates that Revelation Pets' software is easy and intuitive to use. Revelation Pets doesn't just help her with calendar management, reservation bookings, and sales reports, the cattery software also allows her to manage the retail portion of her business. Selling natural wool toys and custom kitty bow ties to her clients creates another way for her business to boost revenue.
"Everything is laid out so well. It's user-friendly, and has everything I need to run my business," says Satomi.
Running a state-of-the-art, modern cattery like the Aloha Cat Hotel, requires a state of the art, modern software. Revelation Pets is a user-friendly pet-care software that makes it easy for a small, two-person team to manage details large and small, so they can spend more time with the cats in their care.
"We love interacting with our feline guests, and watching them become relaxed and social in their home away from home!" says Satomi.